quarkxpress refuses to open files?
This problem seems limited to the English International and Passport versions of QuarkXPress 4. The symptoms of this problem are that after closing QuarkXPress, you cannot launch QuarkXPress again for another 20-40 seconds (double-clicking on its icon or on a .QXD file produces no result).

This problem is due to one of the printers that are installed on your PC, but is currently either not available or not functioning correctly. This causes problems with QuarkXPress because the hardware dongle used to protect it from pirates is placed on the LPT1 parallel port, the same one used by default by most printer drivers (even for printers that are on the network).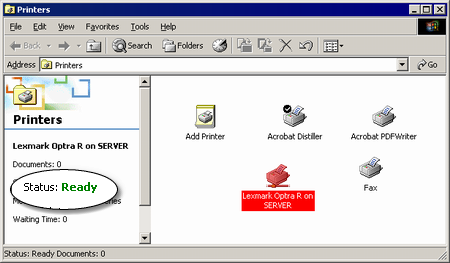 To find out which printer is conflicting with the QuarkXPress hardware dongle, open the Windows Printers folder and select each printer one by one. Most printers when selected will display the status Ready as seen above. The one(s) that is(are) causing the problems will not display Ready, but rather a message in red. You can then either remove that printer from your system (if you are not using it, which is often the case) or ask your system administrator to resolve the printer's malfunction.
---
Comments