Opticentre Your One-stop Language Solution Provider.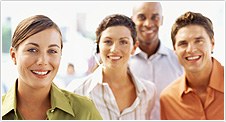 Opticentre is a professional localization, translation and multilingual desktop publishing (DTP) service provider that was established in 2006 in Bulgaria and the US. Our team of highly qualified and professional translators, localizers, editors, proofreaders and DTP specialists are all native speakers, experience and skill.

Opticentre can cater to the localization, translation, typesetting, multilingual desktop publishing (DTP), voice over, dubbing and subtitling needs of a wide range of clients including product manufacturers, service providers, multi-language vendors (MLVs), governmental and non-governmental organizations as well as individual customers.

Opticentre is unique in that it's staffed by teams of programmers, proficient in any standard TM or Design tool and able to ramp up rapidly on any new tool. With typical programmers logic, they are always asking how to work smarter not harder when they look at a workflow for the first time. Thus their mission translates to you as higher velocity production which of course saves on your bottom line.

It's all about making sure that your product, documentation, video or audio are as successful in the new language as they were in the original one, We endeavor to increase our clients' satisfaction by continuously improving our services.

Contact us now for a free quote!
A Few Customers...